Effects of low dissolved oxygen on benthic production
The effects of dissolved oxygen and other environmental variables upon changes in density, biomass, and diversity of the macrobenthic community were quantified in a study that used the benthic program random samples (1996-2004). Physical factors such as temperature, salinity, median grain size, and organic carbon content of sediments influence benthic communities in estuaries to a great extent. Dissolved oxygen also influences benthic community structure, but its significance in Chesapeake Bay has not been evaluated at the scale of the entire Chesapeake Bay. Using regression models and an information-theoretic approach (Akaikes' Information Criteria), this study found that dissolved oxygen was an important predictor of benthic density, biomass, and diversity by depth. Though other physical variables affected benthic density, oxygen was the single best predictor of benthic density in Chesapeake Bay in the summer. At low oxygen levels, biomass was extremely low, suggesting substantial loss of benthic production and foraging habitat for fish and crabs.
Reference:
Seitz, R.D., D.M. Dauer, R.J. Llansó, and W.C. Long. 2009.
Broad-scale effects of hypoxia on benthic community structure in Chesapeake Bay, USA.
Journal of Experimental Marine Biology and Ecology 381: S4-S12.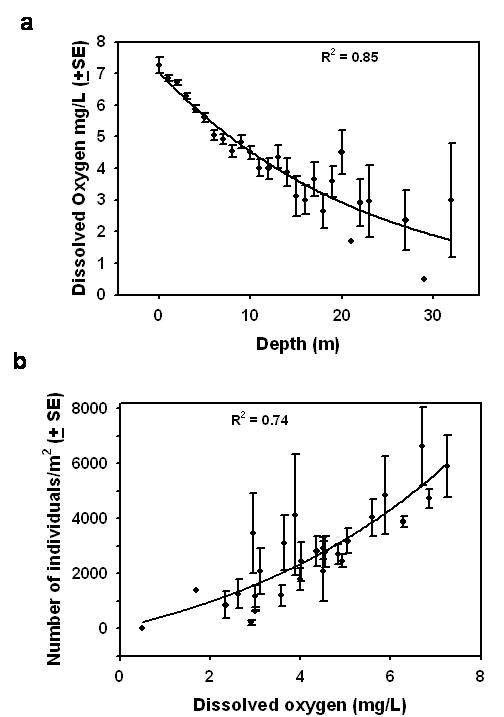 ---
In another study, the interaction of hypoxia and energy in Chesapeake Bay was evaluated using the 1996-2004 Maryland and Virginia benthic random samples collected in summer. Dissolved oxygen data measured at the time of sampling were assumed to be representative of the stations' annual condition. Daily production was estimated from individual species ash-free dry weights and Edgar's (1990) equation P =0.0049 * B0.80 * T0.89, where B is ash-free dry weight and T is water temperature. The production of the macrobenthic community was related to dissolved oxygen. On a daily basis, hypoxia reduces secondary production in Chesapeake Bay by 90%.
Reference:
Sturdivant, S.K., R.J. Diaz, D.M. Dauer, and R.J. Llansó. 2014.
Relationship between hypoxia and macrobenthic production in Chesapeake Bay.
Estuaries and Coasts 37:1219-1232.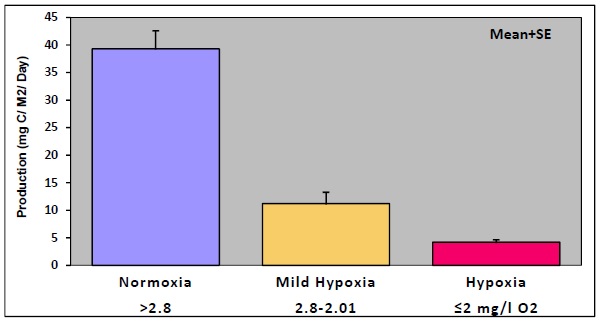 | | | |
| --- | --- | --- |
| Difference | mg C/m2/day | %Reduction |
| Normoxia - Mild Hypoxia | 28.1 | 72 |
| Normoxia - Hypoxia | 35.1 | 90 |